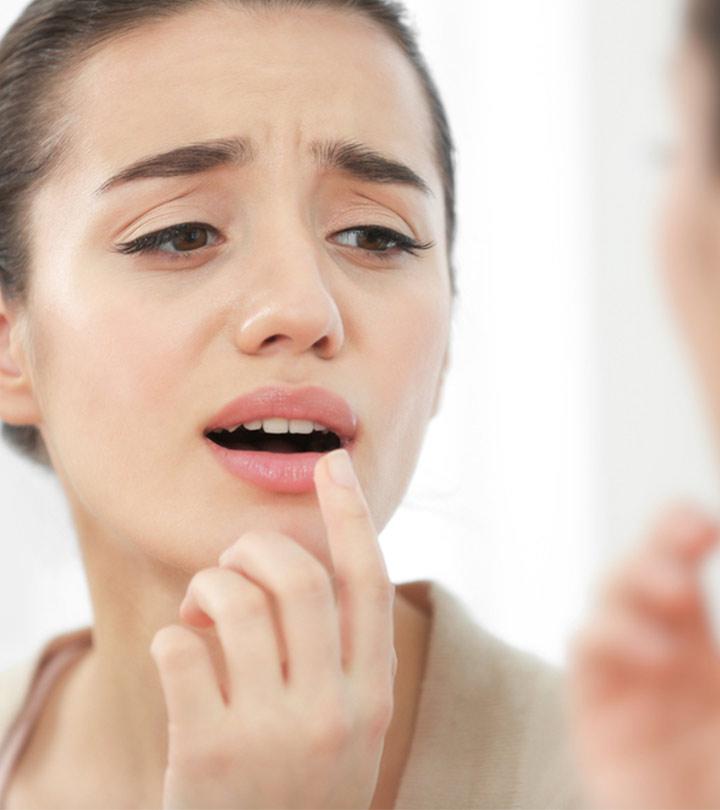 Is that cold sore not budging even slightly from your lip? Well, we can help you get rid of it in no time. We have come across a potent ingredient that can eliminate cold sores quite effectively – hydrogen peroxide. Give this article a read to know exactly how this solution works and the different ways in which you can use it.
Cold sores are also known as fever blisters and are basically lesions filled with fluid. They can affect the lips, nose, cheeks, and the skin around the eyes. These sores are caused by the herpes simplex virus type 1. Unlike canker sores, these blisters are contagious and should be treated at the earliest (1).
Needless to say, cold sores can be unsightly, and they are often quite painful too. Doctors often prescribe antiviral medicines and ointments to treat them. If you are someone who prefers to use home-based remedies, then the bottle of hydrogen peroxide lying in your medicine cabinet can help you.
Read on to know how hydrogen peroxide works against cold sores.
Is Hydrogen Peroxide A Cure For Cold Sores?
When you use home treatments for cold sores, they typically consist of methods that help in alleviating pain and drying the sores so that the healing process is faster. Hydrogen peroxide makes an effective home remedy for these blisters as it works similarly. This commonly used disinfectant for cuts and wounds can help treat cold sores because of these properties:
It is an antiseptic that cleanses the skin and kills the microorganisms present on the skin's surface. This treats and prevents the infection (2).
It has antiviral properties that can specifically target the virus causing the cold sores. The mechanism of this antiviral activity involves weakening the molecular framework of the virus by discharging oxygen atoms (3).
An added advantage of using hydrogen peroxide for cold sores is that it can help to lighten the scars that the blisters may leave behind. This is because of the skin bleaching properties it possesses (4).
Let us now look at the different ways in which hydrogen peroxide can be used to treat cold sores.
How To Use Hydrogen Peroxide To Cure Cold Sores
Home Treatment Of Cold Sores With Hydrogen Peroxide
1. Gargle Hydrogen Peroxide For Cold Sores
½ cup hydrogen peroxide solution
½ cup water
Q-tip
Dilute the hydrogen peroxide in water and gargle with it if the cold sore is present inside the mouth.
To treat topical sores, apply hydrogen peroxide directly on them using a Q-tip.
Repeat this once or twice every day.
The antiseptic and antiviral properties of hydrogen peroxide will treat the viral infection and heal the sore.
2. Salt And Hydrogen Peroxide For Cold Sores
1 teaspoon salt
Hydrogen peroxide solution
Make a paste by adding some hydrogen peroxide to the salt.
Apply this paste on the cold sore and let it dry.
Wash it off with water.
Apply this twice a day.
Salt possesses antimicrobial properties (5). It can speed up the healing process of the cold sore even more when used in combination with hydrogen peroxide.
3. Hydrogen Peroxide And Baking Soda For Cold Sores
1 teaspoon baking soda
Hydrogen peroxide solution
Mix some hydrogen peroxide solution with the baking soda to get a paste.
Apply this on the cold sore and keep it on for 10 minutes.
Rinse it off with water.
Repeat this once every day.
Baking soda is also a commonly used antiseptic agent. It eliminates the virus, reduces the inflammation at the affected site, and soothes the inflamed skin (6).
These home remedies using hydrogen peroxide are an effective and inexpensive way to treat cold sores. Some OTC medications may work, but they are full of chemicals that cause quite a lot of harm to your skin. Go for one of the remedies listed above and treat the cold sore without any side effects.
Here are certain things that you should keep in mind if you are using hydrogen peroxide to treat cold sores.
Things To Remember
Hydrogen peroxide will not prevent the formation of new blisters. It will also not make an infected person any less contagious.
Always use 3% hydrogen peroxide as it is not too strong and will not cause damage to your skin, provided you use it properly.
You can use the solution to clean the affected area several times a day.
Make sure that you keep your skin clean at all times. Always use sterilized cotton balls or swabs to apply the peroxide solution.
If you are doubtful about using hydrogen peroxide for cold sores, consult a health care professional and only then use it.
Hydrogen peroxide is an excellent home remedy for many skin conditions. Cold sores do not have to be a major problem for you anymore when you have this antiseptic by your side. You can gain relief from the pain that comes with the blisters and speed up the healing time by 50%.
Is there any other remedy that you swear by for cold sores? Share with us in the comments section below.
Recommended Articles